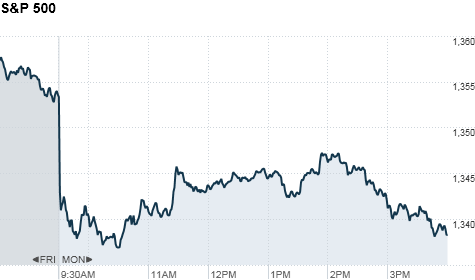 Click chart for more markets data.
NEW YORK (CNNMoney) -- All three U.S. stock indexes closed down roughly 1% Monday. Investors sold out of stocks on worries over the political and economic stability of the eurozone and the safety of the U.S. banking sector.
Over the weekend, Greece's political crisis appeared to worsen as parties fought to form a government. The lack of resolution heightened fears that Greece could be forced to leave the eurozone.
"Everyone is trying to figure out how much of the possibility of Greece leaving the eurozone is being factored into the market," said Frank Davis, head of trading at LEK Securities.
The Dow Jones industrial average (INDU) closed down 125 points, or 1%. The S&P 500 (SPX) lost 15 points, or 1.1%. The Nasdaq (COMP) fell 31 points or 1.1%.
Meanwhile, JPMorgan's announcement last week of a $2 billion trading loss continues to drag down bank stocks.
Shares of JPMorgan (JPM, Fortune 500), which were down 9% Friday, lost another 3% Monday, after the bank announced the retirement of chief investment officer Ina Drew, who oversaw the unit responsible for the trading blunder. Fitch Ratings downgraded JPMorgan's debt after Friday's closing bell, voicing concern over a "lack of liquidity."
Stocks of rival Wall Street firms Citigroup (C, Fortune 500), Wells Fargo (WFC, Fortune 500) and Goldman Sachs (GS, Fortune 500) all slid roughly 2% Monday, following 4% losses Friday. Morgan Stanley (MS, Fortune 500) dropped by more than 4%.
"If [JPMorgan CEO Jamie] Dimon is making these mistakes and known as one of the best managers out there, it really makes people wonder again who is controlling the risk situation at the banks," said Douglas DePietro, head of trading at Evercore.
As Greece's problems heat up, investors made a dash out of European debt securities Monday, with the yield on 10-year Greek bonds shooting up to 27.3%.
The yield on the Spanish 10-year bond climbed to 6.33%. Any rate above the 6% benchmark heightens bailout risk. Italian bond yields also rose, hitting 5.75%.
Meanwhile, the German bund slipped to a record low of 1.45%, further raising the spread between Germany and the weaker nations' yields.
Investors will keep tabs on Germany after German Prime Minister Angela Merkel's party lost elections in the nation's largest state on Sunday. Merkel is due to face national elections next year.
U.S. stocks finished lower Friday and were down for the second straight week.
World markets: Major European stocks closed sharply lower. Britain's FTSE 100 (UKX) lost 2%, while the DAX (DAX) in Germany tumbled 1.9%, and France's CAC 40 (CAC40) plunged 2.3%.
The Shanghai Composite (SHCOMP) lost 0.6% in trading Monday, while Hang Seng (HSI) in Hong Kong ended down 1.2%. But the Nikkei (N225) in Tokyo finished up 0.2% for the day.
The People's Bank of China took action Saturday to stimulate slowing growth, as it cut the amount of reserves banks are required to hold. The move came a day after economic readings showed inflation, industrial production growth, spending and lending in the world's second-largest economy all slowing.
Companies: Yahoo (YHOO, Fortune 500) CEO Scott Thompson left the company Sunday, after it was found he padded his resume with an embellished college degree, ending his term there after just four months.
The web-portal company also reached a deal with activist shareholder and Third Point CEO Dan Loeb, who had initially disclosed the problems with Thompson's resume, by agreeing to nominate three of four directors he had put forth for its board.
Beauty company Avon Products (AVP, Fortune 500) said that it would consider the most recent buyout offer from Coty Inc., which upped its offer last week. Warren Buffett's Berkshire Hathaway (BRKA, Fortune 500) is helping to finance the bid and said it would back the purchase.
Shares of online deal site Groupon (GRPN) rose nearly 11% in after-hours trading, following its release of first-quarter results, which showed narrowing losses and better-than-expected sales. In recent months, Groupon has seen accounting problems, shareholder lawsuits and an examination by the Securities and Exchange Commission, but shares moved up 19% Monday ahead of earnings.
Shares of Chesapeake Energy (CHK, Fortune 500) rebounded Monday from their Friday sell-off, which was sparked by news that Chesapeake might have to delay some asset sales, which are necessary to pay down its debt.
After Friday's close, the company announced it had arranged for a $3 billion unsecured loan from Goldman Sachs (GS, Fortune 500) and affiliates of Jefferies Group (JEF). On Monday, the Wall Street Journal reported that activist investor Carl Icahn is expected to reveal he has increased his stake in the company to more than 5%.
Shares of Best Buy (BBY, Fortune 500) rose after the retailer said former Chief Executive Brian Dunn's relationship with an employee was inappropriate but didn't involve "misuse of company resources" or "misuse of aircraft."
Currencies and commodities: The dollar was stronger against the euro, but fell versus the Japanese yen and the British pound.
Oil prices for June delivery slid to a five-month low, losing $1.96 to $94.17 a barrel.
Gold futures for June delivery lost another $26.30 and reached $1,557.70 an ounce.
Bonds: The price on the benchmark 10-year U.S. Treasury rose, pushing the yield down to 1.78%.