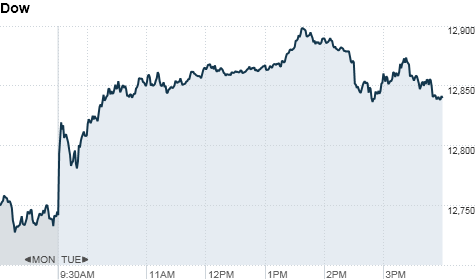 Click the chart for more stock markets data
NEW YORK (CNNMoney) -- U.S. stocks finished up about 1% Tuesday, as investors breathed a delayed sigh of relief about Greece and were optimistic the Federal Reserve might act to boost the economy at the end of its two-day meeting .
"When bad news isn't as bad as you expected, the market reflects that," said Bruce McCain, chief investment strategist at Key Private Bank.
The Dow Jones industrial average (INDU) rose 96 points, or 0.8%, the S&P 500 (SPX) gained 13 points, or 1%, and the Nasdaq (COMP) added 34 points, or 1.2%.
Sunday's election in Greece yielded a victory for the pro-bailout party and eased fears about the country exiting the euro. Investors are hopeful that Greek leaders will be able to form a coalition government, with the National Bank of Greece (NBG) up 11% and Global X FTSE Greece 20 ETF (GREK) up 6% at the close of European markets.
Financial shares were some of the biggest gainers Tuesday. "Bank stocks have been among the most sensitive to the overall trends," said McCain. "Clearly money is moving back toward the risk sector."
Shares of JPMorgan Chase (JPM, Fortune 500), Bank of America (BAC, Fortune 500), Goldman Sachs (GS, Fortune 500), Morgan Stanley (MS, Fortune 500) and Citigroup (C, Fortune 500) were up between 2% and 5%.
Investors are also optimistic that the Federal Reserve's two-day meeting, which ends Wednesday, will produce another round of bond buying, plans to continue its so-called Operation Twist, or some other type of stimulus.
"What we're seeing today foretells the way the rest of the week is going to go," said Doug Cote, chief market strategist at ING Investment Management. "Since we're expecting to see supportive policy out of the U.S. and maybe even out of Europe, the market will get even better."
Stocks saw a similar rise after the last Fed policy meeting in April, with the Dow rising about 350 points in the week after the April 24 meeting. But the boost didn't last; the Dow erased most of its gains by May 7, falling back 270 points.
As fears of an imminent Greek exit from the euro recede, banking and debt worries in Spain have moved into greater focus. Spain's 10-year yield remained above 7% Tuesday, heightening worries that the country will need a bailout
Leaders of the Group of 20 nations were concluding a meeting in Mexico on Tuesday. Europe is at the top of the agenda, though analysts aren't expecting any significant policy announcements.
U.S. stocks ended mixed Monday after a day of choppy trading following the election in Greece. But CNNMoney's Fear & Greed index showed investors' level of fear continued to lessen.
Economy: In May, home builders filed for building permits at the fastest pace since September 2008, the government reported Tuesday.
Permits came in at a seasonally adjusted annual rate of 780,000, easily topping forecasts of 725,000 from economists surveyed by Briefing.com.
Housing starts, which are more affected by weather than permits, fell slightly to an annual rate of 708,000, a bit short of forecasts.
Companies: Shares of retailer JC Penney (JCP, Fortune 500) tumbled after the company announced late Monday that its president had left. Michael Francis was hired away from rival Target (TGT, Fortune 500) in October to lead Penney's marketing efforts, but in May the company announced disappointing sales that sent its share price sharply lower.
Business software maker Oracle (ORCL, Fortune 500) made a surprise earnings announcement after the close Monday, announcing an operating profit of 82 cents a share and a $10 billion buyback. Shares finished the day up 3% on Tuesday.
Drugstore chain Walgreens (WAG, Fortune 500) announced Tuesday it was buying a 45% equity ownership stake in Alliance Boots, the Switzerland-based drug wholesaler that is a major global drugstore chain. Shares closed down 5% on the news.
JPMorgan Chase (JPM, Fortune 500) CEO Jamie Dimon returned to Capitol Hill Tuesday to testify before the House Financial Services Committee about the bank's $2 billion trading loss. Dimon and regulators debated how institutions like JPMorgan should be monitored.
Dimon assured regulators that the bank "can be regulated" and that it is "not too big to fail."
FedEx (FDX, Fortune 500) reported earnings of $1.99 a share in its fiscal fourth quarter, excluding special items, topping forecasts. But its guidance for fiscal first-quarter earnings was below forecasts. Shares were up 3% in as markets closed.
Financial services firm Jefferies (JEF) reported earnings of 31 cents a share, excluding special items, down from 36 cents a year earlier but topping forecasts.
Book retailer Barnes & Noble (BKS, Fortune 500) reported a quarterly loss of $1.08 a share, wider than the loss of $1.04 a share a year earlier.
Microsoft (MSFT, Fortune 500) shares edged higher after the software maker unveiled a Windows tablet computer of its own design late Monday.
Shares of Pandora (P) fell Tuesday after Spotify announced it was launching a free mobile radio app for Apple's iPhone, iPad and iPod touch.
World markets: European markets closed higher. Britain's FTSE 100 (UKX) gained 1.8%, while the DAX (DAX) in Germany rose 1.8%, and France's CAC 40 (CAC40) bounced back from earlier losses to end up 1.6%.
Asian markets closed slightly lower, with the Shanghai Composite (SHCOMP) losing 0.7%, the Hang Seng (HSI) in Hong Kong slipping 0.1% and Japan's Nikkei (N225) down 0.8%.
Currencies and commodities: The dollar was slightly lower against the euro, the Japanese yen and the British pound.
Oil for July delivery settled at $84.03 a barrel, up 75 cents.
Gold futures for August delivery settled down $3.90 to $1,623.10 an ounce.
Bonds: The price on the benchmark 10-year U.S. Treasury fell, sending the yield up to 1.61% from 1.58% on Monday.