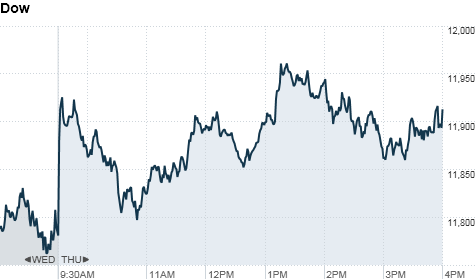 Click the chart for more stock market data.
NEW YORK (CNNMoney) -- U.S. stocks snapped back Thursday from a steep sell-off a day earlier, as Italian bond yields eased slightly and initial unemployment claims reached a 7-month low.
The Dow Jones industrial average (INDU) rose 113 points, or 1%, the S&P 500 (SPX) added 11 points, or 0.9%, and the Nasdaq composite (COMP) edged up 4 points, or 0.1%, as drops in shares of Green Mountain Coffee Roasters (GMCR) and Apple (AAPL, Fortune 500) weighed on the tech-heavy index.
The modest gains came a day after all three indexes tumbled more than 3%. Stocks plunged on Wednesday after the yield on 10-year Italian bonds rose to 7.48% -- its highest level since the euro launched in 1999. The 7% figure is threatening, because it was the level that heightened worries about Greece, Ireland and Portugal -- countries that all required a bailout.
But yields pulled back slightly Thursday following a decent Italian bond auction, and talk of a possible emergency meeting of the European Central Bank helped calm frazzled nerves. But trading will likely remain choppy until more decisive action is announced.
"Investors are looking at the news out of Europe bit by bit, piece by piece," said Ryan Detrick, senior technical strategist at Schaeffer's Investment Research. "The end of the world which seemed so near yesterday may not actually be that close."
An upbeat report on the job market and solid earnings from Cisco also lifted the mood on Wall Street, said Detrick.
Earlier Thursday, investors were briefly spooked by talk that France could be slapped with a ratings cut. The speculation drove the 10-year yield on French bonds to almost 3.5%, up from less than 3.2% the day before.
But those worries were eased Thursday afternoon, after ratings agency Standard and Poor's said that it had mistakenly announced to some of its clients that it had downgraded France's top "AAA" credit rating, due to "a technical error."
Still, worries about Europe's deepening debt crisis have been growing, and investors remain anxious that things could get worse without a firm policy response from European leaders.
"There's a lot of disagreement among European officials on how to deal with this crisis," said Joe Saluzzi, co-head of equity trading at Themis Trading. "Investors see that there's no united front, and that weighs on confidence and makes markets nervous."
Wall Street's fear gauge, the VIX (VIX), slipped almost 9% Thursday, but remained above 33. Any reading above 30 signals investor worry.
Economy: The number of Americans filing for initial unemployment insurance dropped 10,000 to a seven-month low of 390,000 in the latest week. The expectation was for jobless claims of 400,000.
U.S. import prices fell 0.6% in October, after remaining unchanged in September. Export prices fell 2.1% in October -- the largest monthly decline since December 2008, when export prices fell 2.2%.
The nation's international trade deficit in goods and services fell to $43.1 billion in September from a revised $44.9 billion in August, after exports increased more than imports. The number was less than the $45.9 billion expected.
Companies: Cisco Systems (CSCO, Fortune 500) shares rallied, after the networking equipment maker posted a fourth straight quarter of declining earnings late Wednesday. The company reported more than 12% growth in its video and collaboration divisions.
Green Mountain Coffee Roasters (GMCR) sank after the company reported sales that widely missed expectations late Wednesday. Earnings also came in slightly below forecasts.
Currencies and commodities: The dollar lost ground against the euro, the Japanese yen and the British pound.
Oil for December delivery rose $2.04 to $97.78 a barrel.
Gold futures for December delivery fell $32 to 1,759.60 an ounce.
Bonds: The price on the benchmark 10-year U.S. Treasury fell, pushing the yield up to 2.06% from 1.96% late Wednesday.
World markets: European stocks ended the session mixed. Britain's FTSE 100 (UKX) and France's CAC 40 (CAC40) slid 0.3%, while the DAX (DAX) in Germany edged higher 0.7%.
Asian markets ended sharply lower, as investors caught up with Italy's spiking bond yields.
"For a while, Asia was blissfully removed from the turmoil that engulfed Europe," wrote HSBC analyst Frederic Neumann in a client note. "As the crisis evolves, however, the risks for Asia are rising." He noted that Europe provides a great deal of lending to Asia, and "if this gets withdrawn precipitously, the region will feel the pinch."
The Shanghai Composite (SHCOMP) fell 1.8%, the Hang Seng (HSI) in Hong Kong tumbled 5.3% and Japan's Nikkei (N225) dropped 2.9%.
The Bank of England announced Thursday it will hold its benchmark interest rate steady at 0.5%, and keep its current asset purchase program in place.