Especially in a tough economy, plentiful job opportunities are key to making a great place to live. These 25 counties have experienced the most job growth over the last eight years.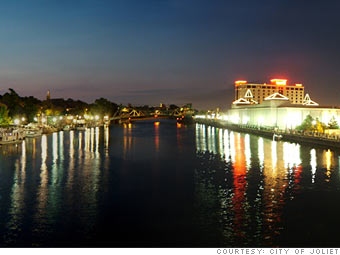 Towns include:
Plainfield
,
Shorewood
,
Romeoville
,
New Lenox
,
Joliet
,
Mokena
,
Goodings Grove
,
Crete
Job growth (2000-2008):
51.4%
Who says America doesn't make stuff anymore? Will County, Illinois, is an old steel center some 30 miles southeast of Chicago. After dealing with 26% unemployment in the 1980s, the area diversified. Now it sports a made-over economy that's home to a massive Caterpillar plant, Exxon, BP and Dow chemical facilities, a Sharp Electronics plant, as well as light assembly and rubber manufacturing.
They've got a hand in logistics too: The county hosts one of the nation's largest intermodal transport centers that connects truck, rail and barge shipments. Many residents work in the 2,500-acre distribution center for large employers like George Pacific and Wal-Mart. If shipping is not your thing, try your luck as a Blackjack dealer. Two casinos in the county employ almost 3,000 people.
NEXT: Weld County, CO