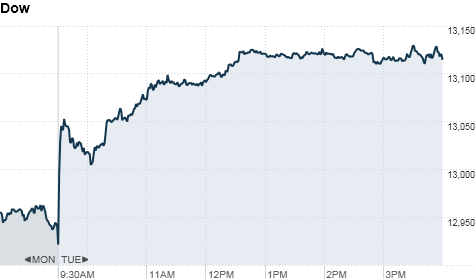 Click the chart for more stock market data.
NEW YORK (CNN Money) -- U.S. stocks rallied Tuesday as worries about Europe eased and investors parsed through the latest round of earnings. The day's gains were the best since March 13 for all three indexes.
The Dow Jones industrial average (INDU) added 194 points, or 1.5%. The move higher pushed the blue chip index back above 13,000, a key psychological milestone, for the first time in over a week.
The S&P 500 (SPX) gained 21 points, or 1.6%, also its best advance in a month, while the Nasdaq (COMP) moved 54 points higher, or 1.8%.
Following a 9% decline over five straight down days, shares of Apple (AAPL, Fortune 500) rebounded more than 5%. Despite its recent pullback, Apple remains one of the top-performing stocks this year, up more than 40% year-to-date. It has contributed more than 15% to the S&P 500's gains this year, according to Standard and Poor's.
Tuesday's broad market gains came as the International Monetary Fund boosted its global growth outlook to 3.5% for 2012, up slightly from a previous prediction of 3.3%.
The increase "reflects the IMF's view that the euro has stabilized since last year," wrote analysts at Wells Fargo Advisors in a research note.
The latest German economic sentiment index came in unexpectedly high, also lifting the the mood of investors, while an auction of Spanish 12- and 18-month treasury bills drew strong demand, said Markus Huber, a senior trader with TX Capital in the United Kingdom.
"It brings a bit of relief after the recent auctions have been rather worrying," he said.
On Monday, Spanish bond yields rose above 6% -- the highest level in several months, but they eased to 5.89% on Tuesday. The Spanish government, which will hold a closely watched bond auction on Thursday, has been struggling with rising borrowing costs amid fears that it may need to be bailed out.
"Thursday's going to be the key [with] the debt auction in Spain and how things will progress," Huber said.
U.S. stocks closed mixed Monday, with blue chips gaining and tech shares falling.
Companies: Investors were also encouraged by a solid batch of corporate earnings results.
Goldman Sachs (GS, Fortune 500) beat expectations and boosted its quarterly dividend.
Coca-Cola (COKE) shares rose after the company said its first-quarter earnings increased almost 8%. While the company's profit margins continued to decline due to higher costs, Coca-Cola said it is managing by taking a number of steps, including raising prices.
Johnson & Johnson (JNJ, Fortune 500) beat earnings expectations for the first quarter, but U.S. revenue declined more than 5%, sending shares lower. The company said sales of over-the-counter medicines were significantly impacted by the suspension of manufacturing at the McNeil Consumer Healthcare facility in Fort Washington, Pa.
U.S. Bancorp (USB, Fortune 500) shares edged higher after the financial firm reported earnings and revenue that beat expectations.
Shares of renewable energy products maker First Solar (FSLR) climbed after the company announced it was reducing its global workforce by 30%.
Chesapeake Energy (CHK, Fortune 500) announced Monday that its oil field services unit will go public as a separate company.
Following the close, Yahoo pulled in 23 cents a share on $1.07 billion in sales for the first quarter. Earnings topped analyst estimates, while revenue, up a scant 1% from last year, came in as expected. Shares of Yahoo (YHOO, Fortune 500) rose 3% in after-hours trading.
IBM (IBM, Fortune 500) shares fell after the closing bell when company said its sales narrowly missed analysts' forecasts. The tech giant reported a profit of $3.1 billion, an increase of 7% versus last year, with earnings per share coming in at $2.78, above estimates of $2.65.
Intel's earnings beat Wall Street estimates, but the chipmaker's profit fell to $2.7 billion, down 13% from a year earlier. Sales held steady at $12.9 billion, just edging past analysts' forecasts of $12.8 billion. PC sales slipped 1%. Shares of Intel (INTC, Fortune 500) dipped in after-hours trading.
Economy: Before the opening bell, the Commerce Department reported that March housing starts occurred at a seasonally adjusted annual rate of 654,000, below expectations and down from February's rate of 694,000.
Building permits, an indication of future construction activity, came in at an annual rate of 747,000 last month, ahead of expectations and up from February's rate of 715,000.
Currencies and commodities: The dollar fell against the British pound, but gained against the euro and the Japanese yen.
Oil for May delivery rose $1.27 to settle at $104.20 a barrel.
Gold futures for April delivery rose $1.60 to settle at $1,650.30 an ounce.
Bonds: The price on the benchmark 10-year U.S. Treasury fell, pushing the yield up to 2% from 1.97% late Monday.
World markets: European stocks closed with solid gains. Britain's FTSE 100 (UKX) added 1.8%, the DAX (DAX) in Germany rose 2.7% and France's CAC 40 (CAC40) climbed 2.7%.
Asian markets ended lower. The Shanghai Composite (SHCOMP) fell 0.9%, while the Hang Seng (HSI) in Hong Kong shed 0.2% and Japan's Nikkei (N225) ended slightly lower.
In India, the central bank surprised observers by cutting interest rates by 0.5 percentage point, an attempt to ward off a slowdown in the world's second-most populous country.