Our annual guide to the best stocks and funds, credit cards, career moves, retirement strategies, and much more.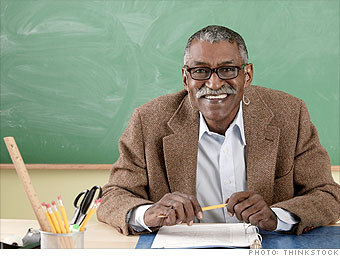 Public school teacher
The scoop:
Demand is especially intense for science, math, and special-ed teachers, says Elizabeth Foster of the National Commission on Teaching.
Job growth to 2018:
13%
Median pay:
$47,000 to $52,000
Training:
Some alternative certification programs for older workers last just a year.
More info:
teach-now.org
NEXT: 49. Best reward cards
Last updated May 12 2010: 10:39 AM ET
Source: Bureau of Labor Statistics, MetLife Foundation, and Civic Ventures
Job growth is projected. Training assumes you already have a bachelor's degree.