Our annual guide to the best stocks and funds, credit cards, career moves, retirement strategies, and much more.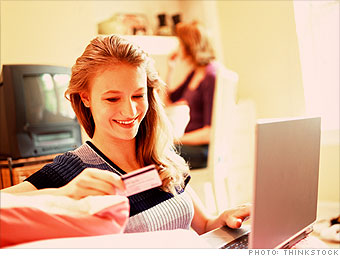 The new ban on plastic for people under 21 (unless they have an adult co-signer or the means to pay) aims to protect them from debt disasters. But Sharon M. Danes, a family economist at the University of Minnesota, says you can teach your child good credit habits well before drinking age.
Age:
Grade schooler
Do this:
Get him a library card. Make sure he pays any fines.
Lesson:
"If you borrow something, you are responsible for giving it back," says Danes.
Age:
Preteen
Do this:
Lend him money if he wants to spend more than he has. Charge him interest and agree on a payback schedule beforehand.
Lesson:
Borrowed money isn't free, and interest can add up fast.
Age:
College freshman
Do this:
Add him as an authorized user of your credit card. Establish how much he can spend without approval and the penalty for breaking the rules. Enforce it.
Lesson:
This is what it's like to deal with a card issuer.
Age:
Upperclassman
Do this:
Co-sign a card of his own. Assuming he has stuck to your agreement and used the card responsibly, he's ready to fly solo.
Remember:
You're still on the hook if he flakes on payments.
NEXT: 89. Best way to preserve family harmony