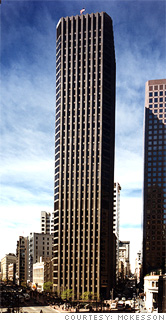 Ticker:
MCK
Market cap (billions): $16.6
PEG ratio: 1.1
Earnings growth*: 13%
Debt/equity ratio: 0.29
McKesson is the largest pharmaceuticals distributor in the United States, supplying more than 40,000 health care facilities - from Wal-Mart to community pharmacies.
The 175-year-old company is on the cutting edge of health care software and technology developments, promising strong growth in the next generation of health care. McKesson's earnings are expected to increase 13% annually for the next few years. Yet the stock trades for just 15 times earnings estimates for this fiscal year, an attractive valuation.
NEXT: BARGAIN GROWTH:
3M
Last updated June 20 2008: 2:35 PM ET
Email
|
Print
|

Digg this story
|
RSS
Criteria include PEG ratios (price/earnings ratio divided by earnings growth rate) below S&P 500's PEG ratio of 2.2, long-term earnings growth equal to or greater than the S&P 500's estimated 7% rate, and debt-equity ratio below 0.33.
*Wall Street estimates for the next three to five years.
Source: Zacks Investment Research