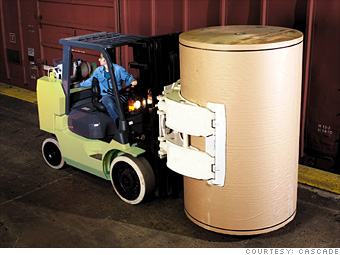 Ticker:
CAE
Market cap (billions): $0.5
P/E ratio*: 13
Current ratio: 3.4
Dividend yield: 1.4%
Demand for consumer trucks may be waning, but it's still strong for this maker of parts for forklifts and other industrial trucks. Cascade's sales for the quarter that ended Jan. 31 were up 15% year over year. By comparison, Nacco Industries, a rival truck-part maker, reported only a 7.5% increase in sales during its comparable quarter.
Though Cascade's share price has fallen recently, due to concerns about the sluggish economy, the stock still trades for 13 times earnings. Barry James, a portfolio manager with James Advantage Funds, says this is a stock that will "pay off if you are patient."
NEXT: DEEP VALUE:
National Presto Industries
Last updated June 20 2008: 2:35 PM ET
Email
|
Print
|

Digg this story
|
RSS
Criteria include prices no more than 15 times average earnings per share over the past three years, ten years of positive earnings, annual per-share earnings growth of 3% or more, ten years of uninterrupted dividends, and current ratio (assets divided by liabilities) of 2 or better.
*Based on average three-year earnings.Sources: Value Line, Zacks Investment Research.