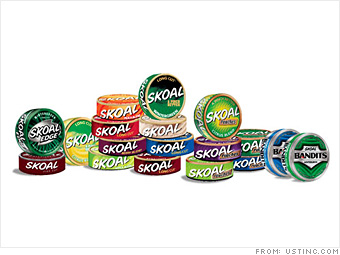 Ticker:
UST
Market cap (billions): $8.3
P/E ratio*: 16
Current ratio: 2.1
Dividend yield: 4.5%
With smoking increasingly becoming a big taboo, some smokers have chosen to get their fix with chewing tobacco. That's been a boon for UST, which makes marquee brands Copenhagen and Skoal. Sales of these brands have risen over the last six consecutive quarters.
But tobacco isn't the only vice UST is cashing in on: The company's smaller wine business grew more than 25% last year. Plus, the stock's dividend yield is a healthy 4.5%, and UST has paid cash dividends without interruption since 1912.
NEXT: DEEP VALUE:
VF Corp.
Last updated June 20 2008: 2:35 PM ET
Email
|
Print
|

Digg this story
|
RSS
Criteria include prices no more than 15 times average earnings per share over the past three years, ten years of positive earnings, annual per-share earnings growth of 3% or more, ten years of uninterrupted dividends, and current ratio (assets divided by liabilities) of 2 or better.
*Based on average three-year earnings.Sources: Value Line, Zacks Investment Research.