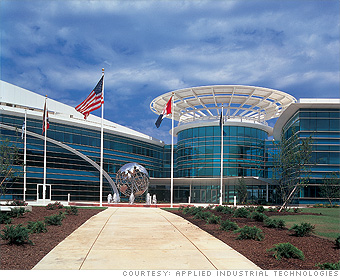 Ticker:
AIT
Market cap (billions): $1.1
P/E ratio*: 13
Current ratio: 3.3
Dividend yield: 2.2%
With more than $101 million in free cash flow over the past 12 months and relatively little debt, this maker of bearings and transmission components is a cash-generating machine.
Though Applied Industrial Technologies' market capitalization of just over $1 billion is comparatively small, the company is growing rapidly. Earnings have increased an average of 46% per year over the last five years. And analysts predict stock buybacks even as AIT maintains a solid dividend of 2.2%.
NEXT: DEEP VALUE:
Carlisle Cos.
Last updated June 20 2008: 2:35 PM ET
Email
|
Print
|

Digg this story
|
RSS
Criteria include prices no more than 15 times average earnings per share over the past three years, ten years of positive earnings, annual per-share earnings growth of 3% or more, ten years of uninterrupted dividends, and current ratio (assets divided by liabilities) of 2 or better.
*Based on average three-year earnings.Sources: Value Line, Zacks Investment Research.