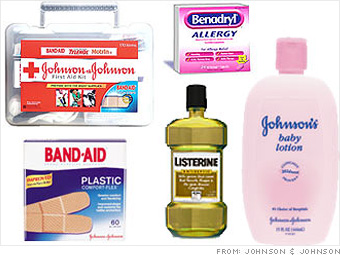 Ticker:
JNJ
Market cap billions: $183.6
P/E ratio*: 16
Earnings growth**: 9%
Dividend yield: 2.7%
Johnson & Johnson is far more diversified than most pharmaceutical companies, selling everything from Band-Aid bandages to Tylenol painkillers. We like it because the company's dividend has grown at a rate of 14% over the past five years.
And during its last quarter, earnings jumped 9% on strong domestic and overseas sales. Among the top-performing brands were Listerine mouthwash and Zyrtec, an over-the-counter allergy medicine.
NEXT: GROWTH AND INCOME:
Procter & Gamble
Last updated June 20 2008: 2:35 PM ET
Email
|
Print
|

Digg this story
|
RSS
Criteria include long-term earnings growth equal to or greater than the S&P 500's estimated 7% rate, dividend yield greater than the S&P 500's 2%, and P/E ratios below 27.
*Based on previous 12-months' reported earnings.
**Wall Street estimates for the next three to five years.
Source: Zacks Investment Research