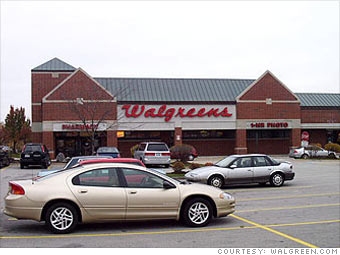 Ticker:
WAG
Market cap (billions): $35.2
PEG ratio: 1.1
Earnings growth*: 14%
Debt/equity ratio: 0
As the leading U.S. pharmacy chain - operating more than 6,600 store locations throughout the country - Walgreen is growing quickly, bolstered by sales of generic drugs.
Popular allergy medicine Zyrtec recently switched to over-the-counter status, for example. And with more prescription drugs losing their patent protection in the future, analyst Chris Armbruster of Al Frank Asset Management says generics could be "a very big windfall" for Walgreen.
We also love that Walgreen has no debt. Plus, the stock's cheap, trading at about 14.5 times earnings estimates for next year, roughly in line with its projected long-term earnings growth rate.
NEXT: DEEP VALUE:
Applied Industrial Tech
Last updated June 20 2008: 2:35 PM ET
Email
|
Print
|

Digg this story
|
RSS
Criteria include PEG ratios (price/earnings ratio divided by earnings growth rate) below S&P 500's PEG ratio of 2.2, long-term earnings growth equal to or greater than the S&P 500's estimated 7% rate, and debt-equity ratio below 0.33.
*Wall Street estimates for the next three to five years.
Source: Zacks Investment Research