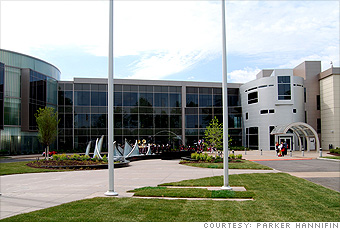 Ticker:
PH
Market cap (billions): $14.0
PEG ratio: 0.9
Earnings growth*: 19%
Debt/equity ratio: 0.23
With annual sales exceeding $10 billion, Parker Hannifin is the world's leading manufacturer of motion technologies, providing parts for such industries as aerospace, commercial transport, oil and gas hydraulics, and mining.
As the price of fuel soars, airlines are buying newer jets from Parker Hannifin customers Boeing and Airbus. That should provide profitable growth opportunities for Parker; its earnings are expected to increase by 19% a year for the next few years.
"Even though airlines aren't making money, they are ordering new planes like crazy because they need more fuel-efficient jets," says Craig Hardy, manager of the Huntington Income Equity fund, which owns the stock. And Parker shares are a bargain, trading at a PEG ratio of only 0.9.
NEXT: BARGAIN GROWTH:
Walgreen
Last updated June 20 2008: 2:35 PM ET
Email
|
Print
|

Digg this story
|
RSS
Criteria include PEG ratios (price/earnings ratio divided by earnings growth rate) below S&P 500's PEG ratio of 2.2, long-term earnings growth equal to or greater than the S&P 500's estimated 7% rate, and debt-equity ratio below 0.33.
*Wall Street estimates for the next three to five years.
Source: Zacks Investment Research