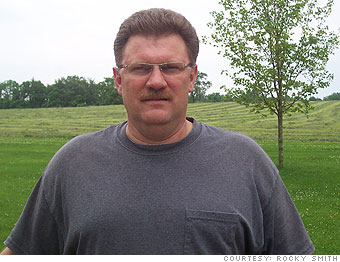 Rural families like Rocky Smith's are getting hammered by price rises.
Tool and die maker, 47, Big Prairie, Ohio
Our family lives in a rural area in Ohio. My wife and I both commute 17 miles each way to work every day.
Needless to say with fuel prices more than tripling in a three-year period, along with food prices rising, there just isn't as much money available for extra things.
Wages have been stagnant, in no way keeping up with all the increases. To me this is a recession without doubt! More like depression really.
Those who live outside the urban areas really are getting hammered for fuel and being compensated very little, if at all.
NEXT: Chris Metsch: Ditching the car
Last updated September 25 2008: 3:44 PM ET
Email
|
Print
|

Digg this story
|

RSS