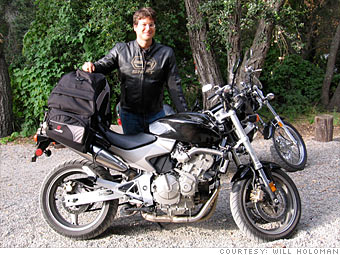 Will Holomon says his 600cc motorcycle gets nearly triple the gas mileage that his sports car did.
Engineer, 39, Irvine, Calif.
Premium gas in Southern California is over $4 a gallon now. Seeing this coming, I sold my gas guzzling sports car in January and bought a 600cc motorcycle for my 22-mile commute each day.
The bike gets 44 miles per gallon -- nearly triple the car's mileage. My commute has also been transformed from drudgery to incredible fun!
Economical transportation is available now -- one only needs to be open to new possibilities.
NEXT: Yvonne Peck: Pain beyond the pump
Last updated September 25 2008: 3:44 PM ET
Email
|
Print
|

Digg this story
|

RSS