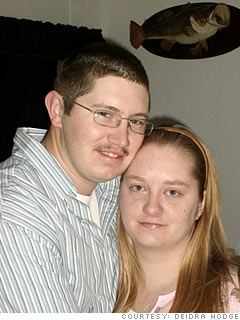 Deidra Hodge (pictured with her husband, Corey) shells out half her paycheck to pay for gas.
Cashier, 22, Manning, S.C.
When gas started to rise, it was hard to cope at first. With gas getting as high as $3.59 a gallon now, I'm spending almost half my paycheck a week in gas -- even with my gas-saving 2001 Dodge Neon.
I travel about 60 miles round trip to work everyday. It's almost cheaper to stay home and be a stay-at-home wife again. My husband's car runs on 93 octane which is nearly $3.99 a gallon at some places.
What are we to do when it becomes too expensive to travel to work? I'm trying to drive slower, trying not to burn gas as fast, but I have to use the interstate and driving less than 70 mph, people nearly run you over.
Gas prices, food prices, etc... they're going up but the prices of my other bills aren't going down. If gas doesn't go down soon, how are we going to afford anything other than filling up our tanks?
NEXT: Dennis Thomason: Bye, bye road trips
Last updated September 25 2008: 3:44 PM ET
Email
|
Print
|

Digg this story
|

RSS