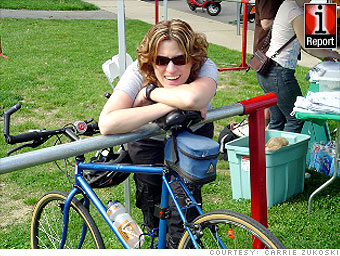 Carrie Zukoski racked up 1,400 miles commuting on her bike last year - and is aiming to do even better this year.
PR director, 41, St. Louis, Mo.
I ride my bike as much as I can. Rising gas prices hurt much less at the pump for me. Last fill up was 22 days in between. This year I'll try to bike even more.
In 2007 I commuted by bike about 1,400 miles. Compared to many people, it's not that much, but for a fair-weather commuter who lives less than five miles from work, it's not too bad.
NEXT: Renae Gregoire: Slowing down to 55
Last updated September 25 2008: 3:44 PM ET
Email
|
Print
|

Digg this story
|

RSS