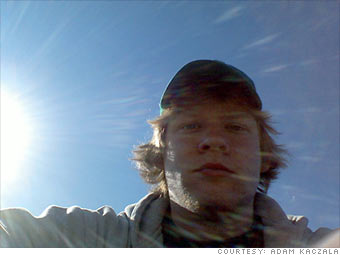 Teenagers like Adam Kaczala can barely afford to fill up their tanks.
AutoCAD drafter, 19, Perrysburg, Ohio
A year ago this summer, I began working at a business somewhere between 10 to 20 miles from my house. Just from the commute, I was paying, on average, $60 a week in gas!
This may not seem like much, but as a kid trying to save money for college, $60 a week is an extreme amount of money.
I am currently 19 years old and am paying around $100 a week in gas... nearly a third of my paycheck! This summer is only getting worse, seeing as how gas has just jumped over $4 a gallon where I live.
Of course, I don't have the most fuel-efficient car, but it is a bit difficult to sell my current gas hog and purchase a smaller, more fuel-efficient vehicle
NEXT: Rob Gerichs: Seeing the silver lining
Last updated September 25 2008: 3:44 PM ET
Email
|
Print
|

Digg this story
|

RSS