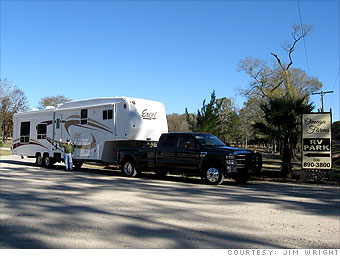 Jim Wright's dream of traveling the country with his trailer was shattered when fuel costs started to soar.
Retired, 70, New Braunfels, Texas
There are many seniors like myself who dream of retiring and traveling. For the last two years of my working life I planned and studied how I could travel on my limited retirement income.
In early '07 I made the decision to sell my house and most of what I owned and purchase a pick-up truck and fifth wheel trailer. By mid '07, both were on order and in October the long-awaited dream was about to come true. I finished my last three months of employment living in my new "home" and hit the road on January 1.
Since then diesel fuel costs have gone through the ceiling, and with my limited retirement funds, my travel plans have been significantly reduced. As I travel I meet more and more "full timers" who are seeing their retirement dreams vanish at the fuel pump.
The only practical recourse for me will be to serve as a volunteer at a state or national park in exchange for a free camping site. This means I will have to make a commitment of three or more months to that park and thus the travels will be seriously limited.
At least at age 70 I still am in good health and working as a volunteer is a practical solution. Many older "full timers" are not in the best of health and the road ahead of them is going to be filled with a lot of bumps.
NEXT: David Anderson: Ironman's big savings
Last updated September 25 2008: 3:44 PM ET
Email
|
Print
|

Digg this story
|

RSS