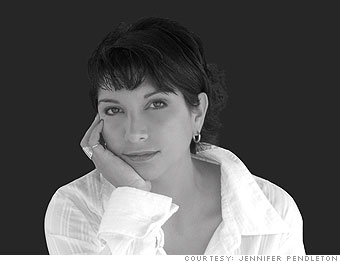 Stay-at-home mom Jennifer Pendleton plans meals in advance to cut back on trips to the grocery store.
Stay-at-home mom, 36, Orange, Calif.
I have been married for 16 years, and we have four great kids. However, because of gas prices my husband has had to commute to work on a motorcycle for the last eight months.
I am basically holding my breath every morning he leaves until that moment when he calls or emails me to tell me that he made it there okay. And the same thing in the evening until he comes home.
I have to prepare weekly menus and grocery lists now so that I can cut down the amount of trips that I have to make to the grocery store. We have even had to cut back on school involvement because of the trips that would take.
And yet with all of these cut backs I am still spending $80 a week on my car and $50 a week on the motorcycle! When is this going to end? We live on a budget, but with the increase in cost of living and the stagnant employment wages and benefits, we are struggling!
NEXT: Craig Spanza: Cutting the commute
Last updated September 25 2008: 3:44 PM ET
Email
|
Print
|

Digg this story
|

RSS