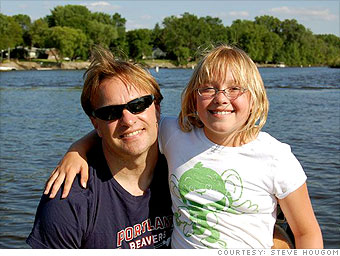 Steve Hougom only sees his daughter, Niki, a few weekends a month because he has to travel far to find work.
Computer programmer, 39, La Crosse, Wis.
My situation is that I own a home in La Crosse, Wisc., but I had to find work in Eagan, Minn, which is a couple of hours from here.
I work a contract in Eagan, Monday to Friday, and spend about $180 or more per week on lodging. My mortgage is $1,160 per month and of course gas costs me $65 to fill up -- and I probably purchase a couple tankfuls per week.
I come back to La Crosse every weekend and get to be with my daughter every other weekend so that is very emotionally tough.
I am a software developer with 15 years experience but it's tough right now. Normally I could get a job anywhere but the employers realize it's a buyer's market right now and are cherry picking the right employee for them.
NEXT: Nuria Rodriguez: Searching for any way to save
Last updated September 25 2008: 3:44 PM ET
Email
|
Print
|

Digg this story
|

RSS