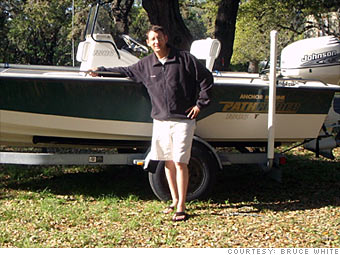 With its 40-gallon gas tank, Bruce White's fishing boat has become too expensive to operate.
Mechanical designer, 24, Lafayette, La.
I have a boat that I cannot afford to use nearly as much as I would like because of its 40-gallon gas tank.
My girlfriend and I are both 24 years old and our cars are paid for, but we still struggle. I bet that we spend as much on gas as we do on food, and our commute is less than 5 miles.
I'm guessing our lifestyles are going to change big time from when I was growing up. No more boat, no more truck. No more cruising around just to see the scenery like we used to do.
NEXT: Will Holoman: Fuel economy boost
Last updated September 25 2008: 3:44 PM ET
Email
|
Print
|

Digg this story
|

RSS