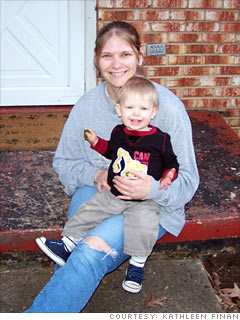 Kathleen Finan (pictured with her son, Nicholas) is working overtime to pay for gas.
System analyst, 27, Lynchburg, Va.
I have a 15-month-old son and cannot take a bike or walk to work. I have no choice but to drive. In 2006 I spent the extra money and bought a hybrid. I see a little savings, but it is still really hard.
Both my husband and I work full-time jobs. Sometimes in a 40-hour work week I will work an extra 10 to 12 hours just to try and pay for my gas.
If the cost of gas continues to go up along with the cost of food and other everyday needs, I don't know what we will do. Surely the government sees what is going on. Why can they not help us out?
NEXT: Chuck Tate: No trip down Route 66
Last updated September 25 2008: 3:44 PM ET
Email
|
Print
|

Digg this story
|

RSS