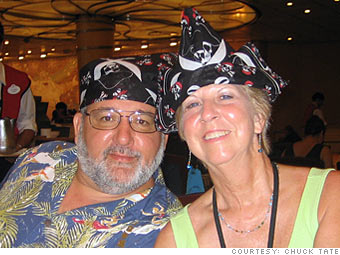 Unexpected costs and high fuel prices have forced Chuck and Debbie Tate to postpone their summer road trip.
Retired, 55, Vicksburg, Miss.
This July was to include a leisurely road trip (camping) down Route 66 and surrounding areas. However, starting in November 2007, several unexpected and expensive events occurred.
[We had to pay for] co-payments for surgery on a knee and ankle, co-payments on physical rehabilitation, much higher costs for propane for heating, tires for the truck, a radiator for the minivan and tires for the minivan.
Add to that the much higher fuel costs on a day-to-day basis and the costs for the trip and the funds for the Route 66 trip are just not there. Maybe next year.
NEXT: Adam Kaczala: Tough on a teen budget
Last updated September 25 2008: 3:44 PM ET
Email
|
Print
|

Digg this story
|

RSS