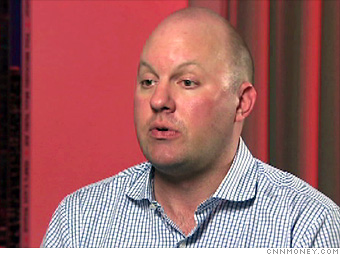 Founder, Netscape, Opsware, Ning, Andreessen Horowitz

Age: 38
Marital status: Married
Highest Education: Bachelor's degree
The Wisconsin native majored in engineering because he had read engineers had the highest starting income among college graduates. The bet paid off: Five years out of the University of Illinois, Andreessen sold his first startup, Netscape Communications, to AOL for $4.2 billion.
Since then he's started two companies: software firm OpsWare (sold to HP in 2007 for $1.6 billion) and social-networking platform Ning. In July the eBay, Facebook, and HP board member launched a $300 million venture capital fund.

Stress reliever: "Hard alcohol."

NEXT: Lorenzo Simonelli

Last updated March 26 2010: 10:26 AM ET
Note: To be eligible for Fortune's 40 under 40, candidates had to be 39 or younger on Nov. 1, 2009.
List compiled by Alyssa Abkowitz, Maha Atal, Katie Benner, Scott Cendrowski, Lawrence Delevigne, Telis Demos, Jessi Hempel, Suzanne Kapner, Mina Kimes, Beth Kowitt, Jessica Shambora, Richard Siklos, Kim Thai, Christopher Tkaczyk and Jia Lynn Yang. Research by Marilyn Adamo and Doris Burke.