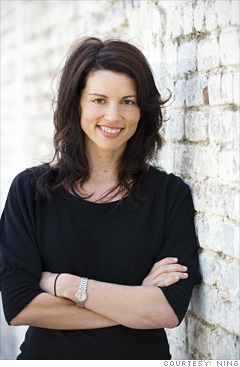 CEO, Ning

Age: 37
Marital status: Married
Highest Education: Master's degree
Bianchini worked on tech IPOs in the late '90s as an analyst for Goldman Sachs before joining a client to found a digital consultancy, Harmonic Communications. They sold it to ad agency Dentsu in 2003, but not before Bianchini connected with Harmonic board member Marc Andreessen. The two hatched the idea for Ning, a platform that lets users create and manage their own social networks.
Ning now hosts 52 million users--and last year raised $60 million at a valuation of $500 million. Bianchini runs the day-to-day operations while Andreessen serves as an adviser.

Reading: One Minute to Midnight, a history of the Cuban missile crisis.

NEXT: Keith Meister

Last updated March 26 2010: 10:26 AM ET
Note: To be eligible for Fortune's 40 under 40, candidates had to be 39 or younger on Nov. 1, 2009.
List compiled by Alyssa Abkowitz, Maha Atal, Katie Benner, Scott Cendrowski, Lawrence Delevigne, Telis Demos, Jessi Hempel, Suzanne Kapner, Mina Kimes, Beth Kowitt, Jessica Shambora, Richard Siklos, Kim Thai, Christopher Tkaczyk and Jia Lynn Yang. Research by Marilyn Adamo and Doris Burke.