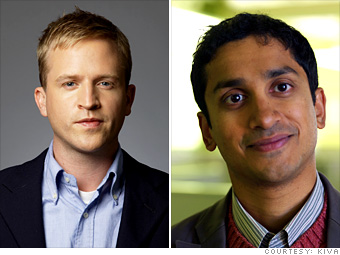 President and Co-Founder/CEO, Kiva.org
Ages: 34 and 32
Marital status: Both are single
Highest Education: Shah: Bachelor's degree, Flannery: Master's degree
Their four-year-old microfinance site redefined giving by persuading individuals to lend as little as $25 to small businesses in the developing world and today in the U.S.; Kiva's 574,000 citizen lenders have since lent $96 million.
Flannery was a programmer at Tivo, Shah a product manager at PayPal. They're now the "it" boys for philanthropy 2.0. (Flannery's ex-wife, Jessica Jackley, a co-founder, has moved on.)

Latest move: a deal to have Moody's rate Kiva's microfinance partners.

Shared mentor: LinkedIn founder Reid Hoffman.

NEXT: Rio Caraeff

Last updated March 26 2010: 10:26 AM ET
Note: To be eligible for Fortune's 40 under 40, candidates had to be 39 or younger on Nov. 1, 2009.
List compiled by Alyssa Abkowitz, Maha Atal, Katie Benner, Scott Cendrowski, Lawrence Delevigne, Telis Demos, Jessi Hempel, Suzanne Kapner, Mina Kimes, Beth Kowitt, Jessica Shambora, Richard Siklos, Kim Thai, Christopher Tkaczyk and Jia Lynn Yang. Research by Marilyn Adamo and Doris Burke.