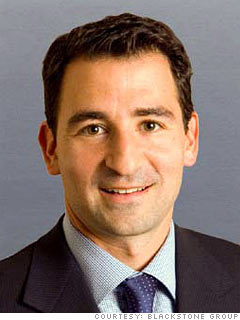 Senior Managing Director, Blackstone

Age: 39
Marital status: Married
Highest Education: Bachelor's degree
The native Chicagoan went straight to Blackstone from Wharton in 1992 and fast became a star in its real estate division, best known for the $39 billion purchase of Equity Office Properties in 2006.
Gray immediately flipped hundreds of buildings in the portfolio for $30 billion just before the market crashed -- and put in just 50% of the equity for the properties he retained, making the deal one of the smartest of the era. Gray now has $12 billion to invest, more dry powder than any other firm.

Sports allegiance: "Rabid" Cubs fan is warming to the Yankees.

NEXT: Jason Kilar

Last updated March 26 2010: 10:26 AM ET
Note: To be eligible for Fortune's 40 under 40, candidates had to be 39 or younger on Nov. 1, 2009.
List compiled by Alyssa Abkowitz, Maha Atal, Katie Benner, Scott Cendrowski, Lawrence Delevigne, Telis Demos, Jessi Hempel, Suzanne Kapner, Mina Kimes, Beth Kowitt, Jessica Shambora, Richard Siklos, Kim Thai, Christopher Tkaczyk and Jia Lynn Yang. Research by Marilyn Adamo and Doris Burke.