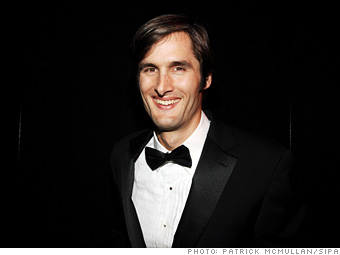 Founder and CEO, DonorsChoose.org

Age: 34
Marital status: Married
Highest Education: Bachelor's degree
Kiva may be bigger, but Best was first: As an underfunded high school social studies teacher in the Bronx in 1999, he cooked up an idea for a website where donors could choose to fund projects posted by teachers.
DonorsChoose.org has since raised $36 million for 2.2 million students and drawn luminaries like Stephen Colbert to its board.

Regrets: Picking the name Donors-Choose: "It works as a literal indication of how our website works, but it doesn't stick in people's brains."

Missed career: Best took the NYPD entrance exam while a senior at Yale but opted for teaching instead. The NYPD was still holding a spot for him until a few years ago.

NEXT: Gina Bianchini

Last updated March 26 2010: 10:26 AM ET
Note: To be eligible for Fortune's 40 under 40, candidates had to be 39 or younger on Nov. 1, 2009.
List compiled by Alyssa Abkowitz, Maha Atal, Katie Benner, Scott Cendrowski, Lawrence Delevigne, Telis Demos, Jessi Hempel, Suzanne Kapner, Mina Kimes, Beth Kowitt, Jessica Shambora, Richard Siklos, Kim Thai, Christopher Tkaczyk and Jia Lynn Yang. Research by Marilyn Adamo and Doris Burke.