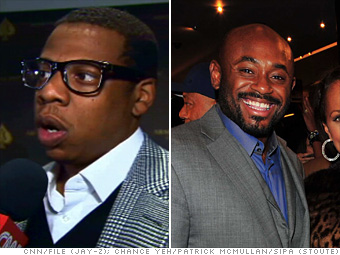 Roc Nation, Translation Advertising

Ages: Both are 39
Marital status: Jay-Z is married, Stoute is single
Jay-Z is co-founder of Roc-A-Fella Records and the Roca-wear clothing brand (sold for $204 million in 2007) and the former president of Def Jam. His latest album is his 11th to hit No. 1, the most by any solo artist ever.
Stoute, former EVP of Interscope Records, founded marketing firm Translation Consultation & Brand Imaging, which paired Justin Timberlake with McDonald's for "I'm Lovin' It" before he sold it to Interpublic.
The pals now run a division that helps giants like State Farm and Johnson & Johnson reach the urban market.

NEXT: Meredith Whitney

Last updated March 26 2010: 10:26 AM ET
Note: To be eligible for Fortune's 40 under 40, candidates had to be 39 or younger on Nov. 1, 2009.
List compiled by Alyssa Abkowitz, Maha Atal, Katie Benner, Scott Cendrowski, Lawrence Delevigne, Telis Demos, Jessi Hempel, Suzanne Kapner, Mina Kimes, Beth Kowitt, Jessica Shambora, Richard Siklos, Kim Thai, Christopher Tkaczyk and Jia Lynn Yang. Research by Marilyn Adamo and Doris Burke.