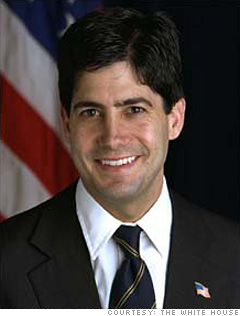 Member, Board of Governors of the Federal Reserve System
Age: 39
Marital status: Married
Highest Education: Juris Doctor (law degree)
The youngest appointee in Fed history when he was named in 2006, Warsh found himself at the center of the Fed's emergency response to the financial crisis in 2008.
Warsh, who had been a banker for Morgan Stanley and then an economics adviser in the Bush White House, took on the role of ambassador to Wall Street. When CEOs called the Fed, they often called Warsh first.
Next he'll help Ben Bernanke make the most delicate of decisions: when to raise interest rates.

Family: Warsh is married to Jane Lauder, a board member and senior executive of (and heir to) the Estée Lauder Cos.

NEXT: Marissa Mayer

Last updated March 26 2010: 10:26 AM ET
Note: To be eligible for Fortune's 40 under 40, candidates had to be 39 or younger on Nov. 1, 2009.
List compiled by Alyssa Abkowitz, Maha Atal, Katie Benner, Scott Cendrowski, Lawrence Delevigne, Telis Demos, Jessi Hempel, Suzanne Kapner, Mina Kimes, Beth Kowitt, Jessica Shambora, Richard Siklos, Kim Thai, Christopher Tkaczyk and Jia Lynn Yang. Research by Marilyn Adamo and Doris Burke.