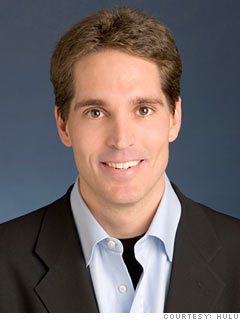 CEO, Hulu

Age: 38
Marital status: Married
Highest Education: Master's degree
The HBS grad made his name -- and fortune -- at Amazon, where he spent nearly a decade as a top exec. Then, in 2007, News Corp.'s Peter Chernin and NBC's Jeff Zucker came calling, tapping him as CEO of Hulu.com, their online video joint venture (also joined by Providence Equity Partners and ABC).
By nailing the technology with a stellar video player and nursing along partnerships with network and cable providers, Kilar has brought Internet viewers their Glee and 30 Rock -- and redefined the viability of TV on the web.

Fashion quirk: He owns 15 of the same shirts, jeans, and dress shirts.

Idol: Walt Disney, for his perfectionism.

NEXT: John Arnold

Last updated March 26 2010: 10:26 AM ET
Note: To be eligible for Fortune's 40 under 40, candidates had to be 39 or younger on Nov. 1, 2009.
List compiled by Alyssa Abkowitz, Maha Atal, Katie Benner, Scott Cendrowski, Lawrence Delevigne, Telis Demos, Jessi Hempel, Suzanne Kapner, Mina Kimes, Beth Kowitt, Jessica Shambora, Richard Siklos, Kim Thai, Christopher Tkaczyk and Jia Lynn Yang. Research by Marilyn Adamo and Doris Burke.