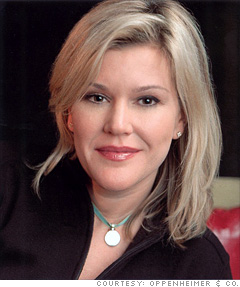 Founder and CEO, Meredith Whitney Advisory Group

Age: 39
Marital status: Married
Highest Education: Bachelor's degree
A prescient call that Citigroup was undercapitalized pushed the financial analyst into the spotlight. But before her words moved markets, she built her reputation on years of tough, accurate calls. Clients know her for warning in 2005 that the rise in subprime borrowers could spark economic woes; for calling Bear Stearns shares worthless at $30; and for predicting early in '09 that financials would rally.
Her latest call may test her track record: She downgraded Goldman Sachs to neutral.

No hierarchy: Her staff gets to meet everyone who stops by, like John Thain.

NEXT: "Pony" Ma Huateng

Last updated March 26 2010: 10:26 AM ET
Note: To be eligible for Fortune's 40 under 40, candidates had to be 39 or younger on Nov. 1, 2009.
List compiled by Alyssa Abkowitz, Maha Atal, Katie Benner, Scott Cendrowski, Lawrence Delevigne, Telis Demos, Jessi Hempel, Suzanne Kapner, Mina Kimes, Beth Kowitt, Jessica Shambora, Richard Siklos, Kim Thai, Christopher Tkaczyk and Jia Lynn Yang. Research by Marilyn Adamo and Doris Burke.