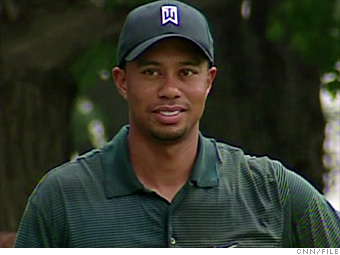 Golfer

Age: 33
Marital status: Married
Highest Education: Some college
How powerful is the Tiger Woods brand? Consider that as soon as golf's No. 1 lost his $8-million-a-year deal with ailing GM, AT&T grabbed the empty ad space on his golf bag. Or that Woods' $100 million annual haul from tour wins and endorsements makes him the world's-highest-paid athlete and the first to hit $1 billion in career earnings. Or that revenues at Nike Golf have grown six-fold since signing Woods in 1996.
Then there's the "Tiger effect": When he was injured last year, viewership dropped by half for a CBS tournament he usually headlines.

College nickname: Urkel.

NEXT: Jonathan Gray

Last updated March 26 2010: 10:26 AM ET
Note: To be eligible for Fortune's 40 under 40, candidates had to be 39 or younger on Nov. 1, 2009.
List compiled by Alyssa Abkowitz, Maha Atal, Katie Benner, Scott Cendrowski, Lawrence Delevigne, Telis Demos, Jessi Hempel, Suzanne Kapner, Mina Kimes, Beth Kowitt, Jessica Shambora, Richard Siklos, Kim Thai, Christopher Tkaczyk and Jia Lynn Yang. Research by Marilyn Adamo and Doris Burke.