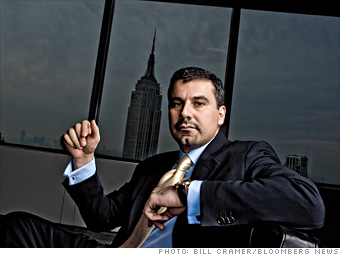 CEO, Touradji Capital

Age: 38
Marital status: Married
Highest Education: Bachelor's degree
The Iranian-born Touradji's $2.7 billion assets under management make his commodity-based hedge fund the biggest in the U.S.
He is said to have a hot temper (former employees have sued over back pay and abusive behavior, claims he denies), but his trading is unusually disciplined in a volatile market.
Since starting his fund in 2005 he's never had a down year, including 2008, when he returned 13%. So far he's up 5.7% in 2009.

Mentor: Julian Robertson of Tiger Management. Touradji wanted to work in the oil industry, but the hedge fund icon put him in commodities -- and he was hooked.

NEXT: Xiaofeng Peng

Last updated March 26 2010: 10:26 AM ET
Note: To be eligible for Fortune's 40 under 40, candidates had to be 39 or younger on Nov. 1, 2009.
List compiled by Alyssa Abkowitz, Maha Atal, Katie Benner, Scott Cendrowski, Lawrence Delevigne, Telis Demos, Jessi Hempel, Suzanne Kapner, Mina Kimes, Beth Kowitt, Jessica Shambora, Richard Siklos, Kim Thai, Christopher Tkaczyk and Jia Lynn Yang. Research by Marilyn Adamo and Doris Burke.