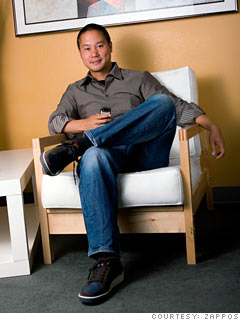 CEO, Zappos.com

Age: 35
Marital status: Single
Highest Education: Bachelor's degree
Hsieh ran a pizza business at Harvard and sold his first company, ad network LinkExchange, to Microsoft for $265 million at age 24. He joined online shoe bazaar Zappos as a consultant and investor in 1999; the next year he became CEO.
He's grown it from $1.6 million in sales to $1 billion, largely by encouraging fierce customer loyalty (Zappos has free, eerily fast shipping both ways). In July, Amazon said it would acquire it for $850 million.

Test of faith: He offers $2,000 to any new recruit to leave the company during training to weed out the half-hearted.

NEXT: Brian Sack

Last updated March 26 2010: 10:26 AM ET
Note: To be eligible for Fortune's 40 under 40, candidates had to be 39 or younger on Nov. 1, 2009.
List compiled by Alyssa Abkowitz, Maha Atal, Katie Benner, Scott Cendrowski, Lawrence Delevigne, Telis Demos, Jessi Hempel, Suzanne Kapner, Mina Kimes, Beth Kowitt, Jessica Shambora, Richard Siklos, Kim Thai, Christopher Tkaczyk and Jia Lynn Yang. Research by Marilyn Adamo and Doris Burke.