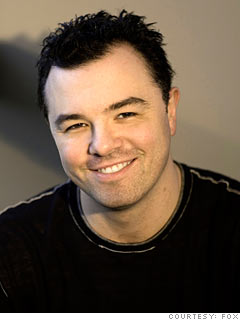 Creator and Executive Producer, Family Guy

Age: 36
Marital status: Single
Highest Education: Bachelor's degree
Meet the highest-paid television writer and producer in history.
Family Guy
, the raunchy animated parody MacFarlane created a decade ago, is now a $1 billion franchise.
In year two of a $100 million-plus contract that keeps him at the network until 2012, MacFarlane is also shepherding a spinoff called The Cleveland Show, his third in primetime. And while Fox was waffling over his contract extension last year, he signed a deal with Google to produce online comedy sketches.
This year Family Guy earned an Emmy nod for a comedy series--the first animated show to do so since The Flintstones in 1961.

Hobby: Playing Cole Porter tunes on his piano.

NEXT: Kevin Warsh

Last updated March 26 2010: 10:26 AM ET
Note: To be eligible for Fortune's 40 under 40, candidates had to be 39 or younger on Nov. 1, 2009.
List compiled by Alyssa Abkowitz, Maha Atal, Katie Benner, Scott Cendrowski, Lawrence Delevigne, Telis Demos, Jessi Hempel, Suzanne Kapner, Mina Kimes, Beth Kowitt, Jessica Shambora, Richard Siklos, Kim Thai, Christopher Tkaczyk and Jia Lynn Yang. Research by Marilyn Adamo and Doris Burke.