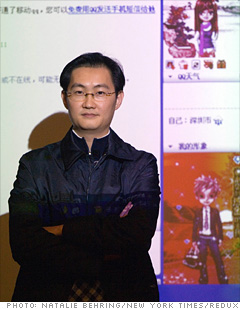 Founder and CEO, Tencent

Age: 38
Marital status: Married
Highest Education: Bachelor's degree
Who says you can't make money off a social network? Ma's Internet services empire, Tencent, based in Shenzhen, China, leveraged its massive reach -- it has 450 million active instant-messenger users -- into $1 billion in revenue last year.
Inspired by early instant-messaging programs, Ma and a childhood friend launched their own service, QQ, in 1999. Once he had a captive audience, he added paid services like gaming and online dating.
Sales increased 78% in the first half of this year, to $788 million; Ma's stake is now worth $3.6 billion.

Nickname: "Pony" Ma (ma is the Chinese word for "horse").

NEXT: Seth MacFarlane

Last updated March 26 2010: 10:26 AM ET
Note: To be eligible for Fortune's 40 under 40, candidates had to be 39 or younger on Nov. 1, 2009.
List compiled by Alyssa Abkowitz, Maha Atal, Katie Benner, Scott Cendrowski, Lawrence Delevigne, Telis Demos, Jessi Hempel, Suzanne Kapner, Mina Kimes, Beth Kowitt, Jessica Shambora, Richard Siklos, Kim Thai, Christopher Tkaczyk and Jia Lynn Yang. Research by Marilyn Adamo and Doris Burke.