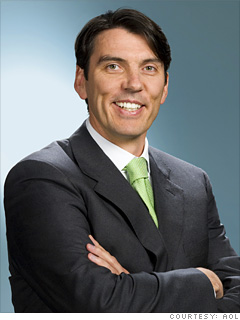 CEO, AOL

Age: 38
Marital status: Married
Highest Education: Bachelor's degree
In 2000, as a Google sales executive charged with persuading companies to advertise on the company's search pages, Armstrong had a brain wave: What if Google contracted with media content companies to sell ads on their platforms too?
The idea became Google's $6 billion AdSense network and Armstrong's big break, landing him a new job as head of sales in the Americas.
This past April he was named to the top job at AOL, where he's applying his peculiar mix of Internet and publishing experience to transform your mom's digital service provider into a content destination.

Geeky hobby: bird watching.

NEXT: Cesar Conde

Last updated March 26 2010: 10:26 AM ET
Note: To be eligible for Fortune's 40 under 40, candidates had to be 39 or younger on Nov. 1, 2009.
List compiled by Alyssa Abkowitz, Maha Atal, Katie Benner, Scott Cendrowski, Lawrence Delevigne, Telis Demos, Jessi Hempel, Suzanne Kapner, Mina Kimes, Beth Kowitt, Jessica Shambora, Richard Siklos, Kim Thai, Christopher Tkaczyk and Jia Lynn Yang. Research by Marilyn Adamo and Doris Burke.