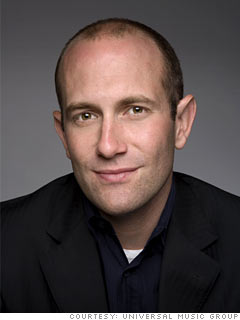 President and CEO, Vevo

Age: 34
Marital status: Single
Highest Education: Bachelor's degree
Can he save the music business? Caraeff grew Universal's mobile division until it became 45% of the parent's digital revenues, then headed all of digital for the leading label.
Earlier this year he was tapped to run Vevo, the high-profile partnership between YouTube and record labels Universal and Sony designed to extract profits from music videos on the web (they're hugely popular, it turns out). Now EMI and Warner Music Group are mulling joining the venture, boosting its potential.

Do-gooder: Caraeff spends a week a year volunteering at an animal shelter in Utah.

NEXT: Erin Burnett

Last updated March 26 2010: 10:26 AM ET
Note: To be eligible for Fortune's 40 under 40, candidates had to be 39 or younger on Nov. 1, 2009.
List compiled by Alyssa Abkowitz, Maha Atal, Katie Benner, Scott Cendrowski, Lawrence Delevigne, Telis Demos, Jessi Hempel, Suzanne Kapner, Mina Kimes, Beth Kowitt, Jessica Shambora, Richard Siklos, Kim Thai, Christopher Tkaczyk and Jia Lynn Yang. Research by Marilyn Adamo and Doris Burke.