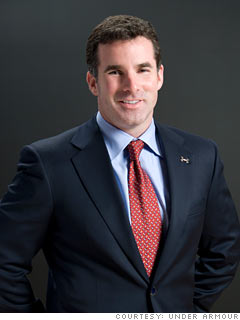 Founder and CEO, Under Armour

Age: 37
Marital status: Married
Highest Education: Bachelor's degree
Tired of shapeless athletic wear that kept him damp under his uniform, the former University of Maryland football player came up with a stretchy, snug-fitting alternative. The resulting performance T-shirts cornered what's now a $1 billion performance underwear market.
Under Armour had revenues of $725 million last year; its logo has become ubiquitous in gyms and high schools and on the street. Now Plank has his eye on Nike and the $5 billion running-shoe market.

Taking one for the team: Last year Plank cut his salary from $500,000 to $26,000 after the company missed its sales goals.

NEXT: Jay-Z and Steve Stoute

Last updated March 26 2010: 10:26 AM ET
Note: To be eligible for Fortune's 40 under 40, candidates had to be 39 or younger on Nov. 1, 2009.
List compiled by Alyssa Abkowitz, Maha Atal, Katie Benner, Scott Cendrowski, Lawrence Delevigne, Telis Demos, Jessi Hempel, Suzanne Kapner, Mina Kimes, Beth Kowitt, Jessica Shambora, Richard Siklos, Kim Thai, Christopher Tkaczyk and Jia Lynn Yang. Research by Marilyn Adamo and Doris Burke.