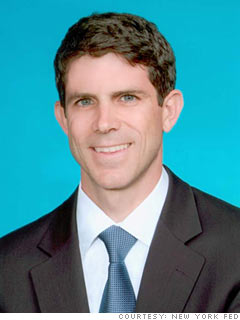 EVP, Head of Markets Group, New York Fed

Age: 39
Marital status: Married
Highest Education: Doctorate
At a time when the plumbing of the financial system is in the spotlight, the youngest division leader at the New York Fed owns the biggest wrench.
Appointed earlier this year to head the markets group, the MIT economics Ph.D. and former forecaster manages the Fed's $2.1 trillion portfolio and gives advice to policymakers in D.C. It's a high-profile gig: His predecessor, William Dudley, now heads the New York Fed.

Home front: When he relocated to Larchmont, N.Y., Sack immediately ruled out Tim Geithner's home, still for sale there.

NEXT: Aaron Patzer

Last updated March 26 2010: 10:26 AM ET
Note: To be eligible for Fortune's 40 under 40, candidates had to be 39 or younger on Nov. 1, 2009.
List compiled by Alyssa Abkowitz, Maha Atal, Katie Benner, Scott Cendrowski, Lawrence Delevigne, Telis Demos, Jessi Hempel, Suzanne Kapner, Mina Kimes, Beth Kowitt, Jessica Shambora, Richard Siklos, Kim Thai, Christopher Tkaczyk and Jia Lynn Yang. Research by Marilyn Adamo and Doris Burke.