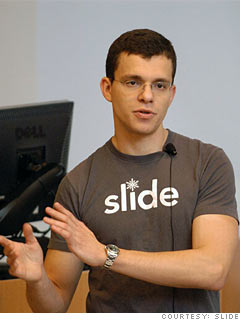 Co-Founder, Paypal; Founder, Slide

Age: 34
Marital status: Married
Highest Education: Bachelor's degree
At 23, Ukranian-born Levchin road-tripped to Palo Alto, where he pitched an investor on his idea for the first online payment system, PayPal.com. When eBay paid $1.5 billion for it in 2007, Levchin banked $34 million.
His latest venture, Slide.com, has yet to become the next breakthrough, but Levchin's a leading Valley thinker whose early stakes in other companies like Yelp.com are closely watched.

Little-known legacy: Helped created the Gausbeck-Levchin fraud test, the alphanumeric jumble you're asked to type before making a transaction online.

NEXT: Josh James

Last updated March 26 2010: 10:26 AM ET
Note: To be eligible for Fortune's 40 under 40, candidates had to be 39 or younger on Nov. 1, 2009.
List compiled by Alyssa Abkowitz, Maha Atal, Katie Benner, Scott Cendrowski, Lawrence Delevigne, Telis Demos, Jessi Hempel, Suzanne Kapner, Mina Kimes, Beth Kowitt, Jessica Shambora, Richard Siklos, Kim Thai, Christopher Tkaczyk and Jia Lynn Yang. Research by Marilyn Adamo and Doris Burke.