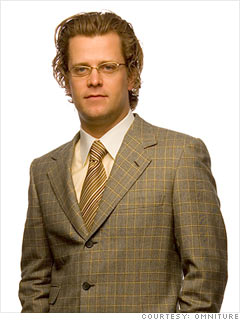 Founder and CEO, Omniture

Age: 36
Marital status: Married
Highest Education: Some college
James dropped out of Brigham Young University a month shy of graduation to start an Internet company in nearby Orem, Utah. Today his web analytics firm Omniture, which measures real-time Internet traffic and sells that data to blue-chip customers, has more than $300 million in revenue.
James's stake, currently worth $19 million, is about to become more valuable: Adobe has announced it will acquire the company for $1.8 billion, a 45% premium.

Wheels: Audi R8 (he sold his Porsche 911 to his best childhood friend).

Family: James has five daughters, ages 3 to 12.

NEXT: Tony Hsieh

Last updated March 26 2010: 10:26 AM ET
Note: To be eligible for Fortune's 40 under 40, candidates had to be 39 or younger on Nov. 1, 2009.
List compiled by Alyssa Abkowitz, Maha Atal, Katie Benner, Scott Cendrowski, Lawrence Delevigne, Telis Demos, Jessi Hempel, Suzanne Kapner, Mina Kimes, Beth Kowitt, Jessica Shambora, Richard Siklos, Kim Thai, Christopher Tkaczyk and Jia Lynn Yang. Research by Marilyn Adamo and Doris Burke.