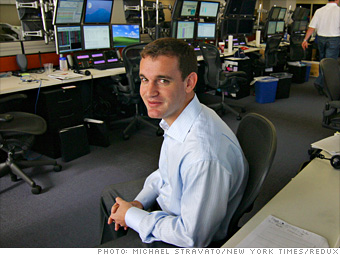 Founder, Centaurus Advisors

Age: 35
Marital status: Married
Highest Education: Bachelor's degree
The baby-faced billionaire started as a numbers whiz on the natural-gas desk at Enron, emerged from that disaster to start his own fund in 2002 at age 28, and last year turned in the third-best hedge fund performance, after John Paulson and James Simons, who is retiring.
Since starting his fund, Arnold has returned at least 80% every year -- including reported gains of over 200% in 2007, when he took the short side of Amaranth's disastrous bet on natural gas.

Next big thing: He's spending $100 million to build new natural-gas storage caverns, making him a key middleman in the energy economy.

NEXT: Marc Andreessen

Last updated March 26 2010: 10:26 AM ET
Note: To be eligible for Fortune's 40 under 40, candidates had to be 39 or younger on Nov. 1, 2009.
List compiled by Alyssa Abkowitz, Maha Atal, Katie Benner, Scott Cendrowski, Lawrence Delevigne, Telis Demos, Jessi Hempel, Suzanne Kapner, Mina Kimes, Beth Kowitt, Jessica Shambora, Richard Siklos, Kim Thai, Christopher Tkaczyk and Jia Lynn Yang. Research by Marilyn Adamo and Doris Burke.