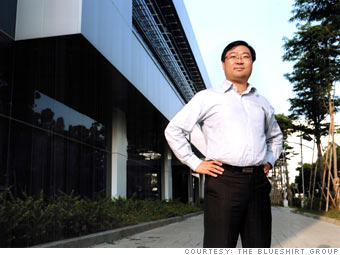 Founder and CEO, LDK Solar

Age: 34
Marital status: Married
Highest Education: Master's degree
Born in Jiangxi province, Peng first founded Suzhou Liouxin Group, a manufacturer and exporter of work gloves, safety glasses, and other products. He wanted to include solar panels but couldn't, since no Chinese company made the wafers that went in them.
With the help of $80 million from venture capitalists, he founded LDK in 2005, took it public in 2007, and last year saw revenues more than triple to $1.6 billion. But this year LDK has faced big losses due to an inventory write-down.

Early sign: Peng was called "Light" in college because of his interest in optics.

NEXT: Alex Rigopulos and Eran Egozy

Last updated March 26 2010: 10:26 AM ET
Note: To be eligible for Fortune's 40 under 40, candidates had to be 39 or younger on Nov. 1, 2009.
List compiled by Alyssa Abkowitz, Maha Atal, Katie Benner, Scott Cendrowski, Lawrence Delevigne, Telis Demos, Jessi Hempel, Suzanne Kapner, Mina Kimes, Beth Kowitt, Jessica Shambora, Richard Siklos, Kim Thai, Christopher Tkaczyk and Jia Lynn Yang. Research by Marilyn Adamo and Doris Burke.