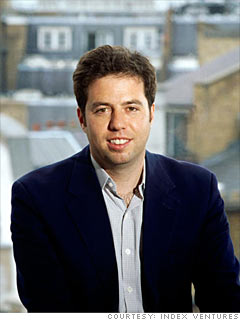 Partner, Index Ventures

Age: 39
Marital status: Married
Highest Education: Bachelor's degree
He lives in London, but the Canadian-born Rimer is one of Silicon Valley's most successful VCs, thanks to a string of home-run exits: He invested in Skype a year before eBay bought it for $2.6 billion; he was an early investor in voice portal TellMe, which sold to Microsoft in 2007 for $800 million.
Other hits include Internet radio website Last.fm, acquired by CBS for $280 million, and open-source database MYSQL, sold to Sun Microsystems last year for $1 billion.

Next move: He's now focused on cloud computing and e-commerce, with stakes in mobile-payment service Boku and online ticket exchange service Viagogo.

NEXT: Premal Shah and Matthew Flannery

Last updated March 26 2010: 10:26 AM ET
Note: To be eligible for Fortune's 40 under 40, candidates had to be 39 or younger on Nov. 1, 2009.
List compiled by Alyssa Abkowitz, Maha Atal, Katie Benner, Scott Cendrowski, Lawrence Delevigne, Telis Demos, Jessi Hempel, Suzanne Kapner, Mina Kimes, Beth Kowitt, Jessica Shambora, Richard Siklos, Kim Thai, Christopher Tkaczyk and Jia Lynn Yang. Research by Marilyn Adamo and Doris Burke.