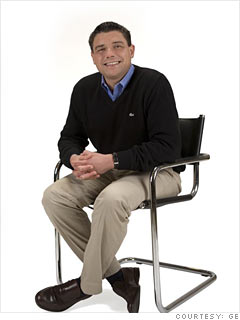 President, CEO, GE Transportation

Age: 36
Marital status: Single
Highest Education: Bachelor's degree
GE loves to boast that more than half its revenues come from outside the U.S. So it's no surprise that its youngest division chief ever is from Italy.
The first non-American to run the company's $5 billion transportation business was personally tapped by CEO Jeff Immelt last July to head the business, based in Erie, Pa. (it makes locomotives and large vehicle engines) -- a role long considered a stepping stone to greater things within GE.

Mentor: Paolo Fresco, former top executive of GE International and chairman of Fiat.

Attention, ladies: He has no spouse or kids -- and a family estate in Tuscany.

NEXT: Tim Armstrong

Last updated March 26 2010: 10:26 AM ET
Note: To be eligible for Fortune's 40 under 40, candidates had to be 39 or younger on Nov. 1, 2009.
List compiled by Alyssa Abkowitz, Maha Atal, Katie Benner, Scott Cendrowski, Lawrence Delevigne, Telis Demos, Jessi Hempel, Suzanne Kapner, Mina Kimes, Beth Kowitt, Jessica Shambora, Richard Siklos, Kim Thai, Christopher Tkaczyk and Jia Lynn Yang. Research by Marilyn Adamo and Doris Burke.