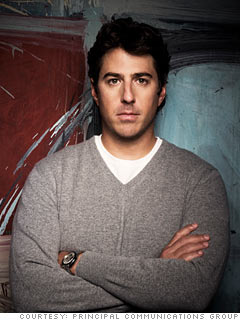 Founder and CEO, Wasserman Media Group

Age: 35
Marital status: Married
Highest Education: Bachelor's degree
The grandson of legendary MCA studio head Lew Wasserman started his empire early in life, paying $5 million for arena football's L.A. Avengers at age 25. Since then he's grown his sports agency, Wasserman Media Group, to compete with industry giant IMG.
Yet 2009 has been rough: Wasserman shut down the Avengers as arena football sputtered and had to scrap plans for an online Olympic network. But his consulting group brokered Lance Armstrong's $10 million deal with Radio Shack, and if the NFL returns to L.A., he's expected to play a major role.

Prominent pal: Bill Clinton.

NEXT: Ben Silverman

Last updated March 26 2010: 10:26 AM ET
Note: To be eligible for Fortune's 40 under 40, candidates had to be 39 or younger on Nov. 1, 2009.
List compiled by Alyssa Abkowitz, Maha Atal, Katie Benner, Scott Cendrowski, Lawrence Delevigne, Telis Demos, Jessi Hempel, Suzanne Kapner, Mina Kimes, Beth Kowitt, Jessica Shambora, Richard Siklos, Kim Thai, Christopher Tkaczyk and Jia Lynn Yang. Research by Marilyn Adamo and Doris Burke.